About CITES
The 'Washington' Convention on International Trade in Endangered Species of Wild Fauna and Flora, more commonly known as CITES, aims to protect certain plants and animals by regulating and monitoring their international trade to prevent it reaching unsustainable levels. The Convention entered into force in 1975, and the UK became a Party in 1976. There are more than 168 Parties to the Convention. The CITES Secretariat is administered by the United Nations Environment Programme (UNEP).

CITES works by subjecting international trade of selected species to certain controls. All import, export, re-export and introduction from the sea of species covered by the Convention has to be authorized through a licensing system. The convention provides a framework for legislation and process for countries that are a party; hence the actual rules and legislation vary from country to country. As a result shipping times for items purchased on Smythson.com vary between countries.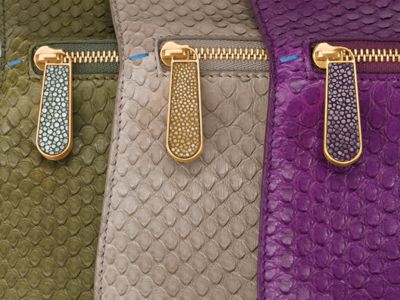 Smythson and Sustainable Sourcing
Smythson use the finest quality leathers in exclusive patterns and colours. All leather goods are manufactured in small artisan factories in Italy, Spain and the UK, with leathers carefully sourced from European tanneries, principally in Italy and France.

Smythson fully supports CITES and only makes products from sustainable sources. We use skins listed in appendix II of the Cites convention. These skins are imported into the EU accompanied by an export certificate issued by the government of the country of origin.

For further information regarding shipping times of Exotic items, please contact Customer Services.
Monday–Friday: 7am to 5pm (EST)
Saturday: 7am to 1pm (EST
Sunday: Closed