A STITCH IN TIME - A RICH HERITAGE
A world where luxury and versatility are never compromised. Where our expertise meets your individuality. A world where our craft meets your story.
We endeavour to make the ordinary extraordinary and the everyday timeless. Rooted in deep heritage, we represent over 130 years of British luxury leather goods at their most refined, with an enduring dedication to unrivalled craftsmanship. Smythson has long catered to the highly discerning, from European Royalty and the Indian Maharajas to the likes of Grace Kelly, Katharine Hepburn, Claudette Colbert and Vivien Leigh. Influential figures, leading extraordinary lives, from Sigmund Freud to Sir Winston Churchill, recognised the timeless purity of our creations.
Today, that legacy continues – a distinctly unique, extraordinary brand catering to extraordinary people.
A MARK OF DISTINCTION
We are the proud holder of three Royal Warrants, having been granted a Royal Warrant from Her Majesty The Queen in 1964, HRH The Prince of Wales in 1980, and HRH The Duke of Edinburgh in 2002. While holding Her Majesty Queen Elizabeth The Queen Mother's Warrant (in existence until 2007) Smythson was one of only eight companies in the world to hold all four simultaneously.
Royal Warrants are a highly prized mark of recognition of individuals or companies who have supplied goods or services for at least five years to the Households of the British Royal Family. They demonstrate service, quality and excellence of the highest calibre.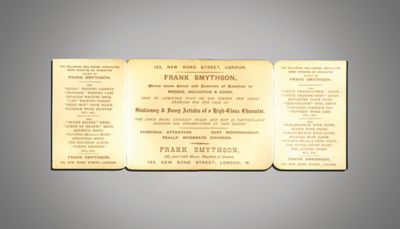 EXTRAORDINARY INNOVATION SINCE 1887
In 1887, Frank Smythson had a pioneering vision to create the extraordinary. An enthusiast of meticulous craftsmanship and exceptional quality, he established a brand with an aspiration to make the beautiful functional and the luxurious timeless.
THE FIRST FEATHERWEIGHT DIARY – 1908
Frank Smythson created the world's first practical, portable diary. Known as 'the Panama hat of books,' the remarkable pliability of its hard-wearing binding allowed it to be squashed, folded or rolled up without becoming marked or misshapen. The epithet quickly caught on, and was adopted as the name of the diary as well as the leather in which it is bound - both of which remain virtually unchanged to this day. The Panama diary was the first to contain our iconic pale blue Featherweight paper, and was specifically designed to fit perfectly inside a gentleman's breast pocket 'without causing the least disfigurement'.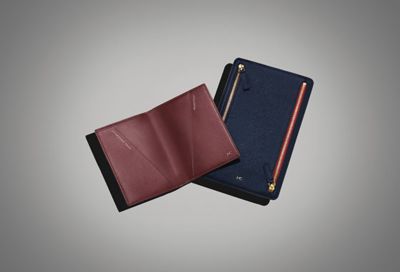 PERSONALISATION – OUR CRAFT, YOUR STORY.
We have always celebrated individuality, from our iconic bespoke stationery service to world-renowned personalisation on our refined leather bags and accessories. A unique process founded upon a close collaboration between craftsman and customer, our highly skilled artisans still use the same techniques as they did all those years ago. The possibilities are infinite – from classic, stamped initials to personally designed motifs stamped in gold or silver leaf.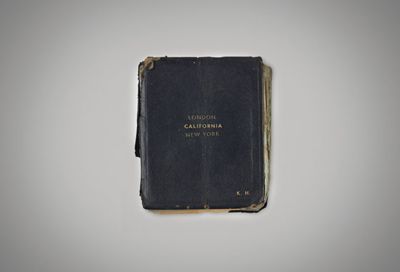 KATHARINE HEPBURN'S ADDRESS BOOKS – 1955
Screen legend and Academy Award winning actress Katharine Hepburn was a faithful fan of Smythson's notebooks. In 1955 she ordered two special edition address books with 'London, California, New York' emblazoned in gold on the front cover, personalised with the addition of her initials.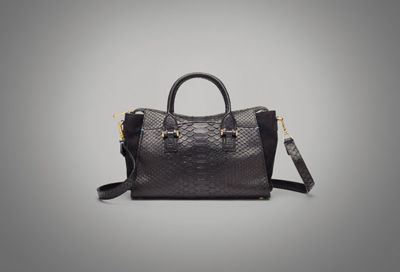 TODAY – AN UNRIVALLED SELECTION OF LUXURY LEATHER GOODS AND STATIONERY
Today, our contemporary icons hold Smythson's hidden history within, from the Panama collection inspired by the 1908 diary, to the signature shot of the Eliot Tote, which is a true testimony to our rich British heritage.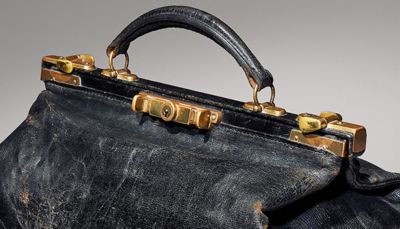 THE BOND STREET BAG – 1900
One of the first-ever Smythson handbags, it was advertised as the bag which would 'always hold just a little more'. This dainty piece was the original owner of our signature striped cotton lining.
A DEDICATION TO BRITISH CRAFTSMANSHIP
Ranging from our extensive collection of handbags, travel goods and business accessories to our unrivalled stationery, each piece bears our unmistakable trademark of optimum quality, functionality and exquisite craftsmanship.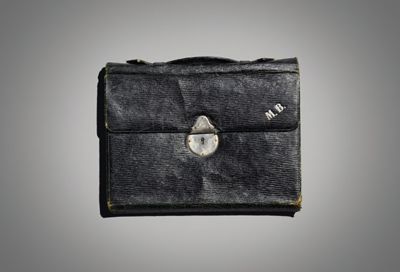 LETTER DOCUMENT CASE – 1910
The marriage of style and practicality has always been the core of Smythson's design philosophy, as this early document case testifies. In one particular advertorial it was described as 'a very convenient and portable arrangement'. The current version of this timeless classic exist in the Grosvenor collection
BESPOKE STATIONERY FOR THE MAHARAJAS OF INDIA – 1920
By far the most elaborate stationery produced was for the Maharajas of India during the 1920s and 30s. Beautiful hand-bordered paper was intricately engraved with personal monograms in gold, silver and rich colours, decorated with delicate mother-of-pearl inlays. This exquisite work firmly established Smythson as the world's foremost purveyors of luxury personalised stationery, a legacy that still lives on to this day.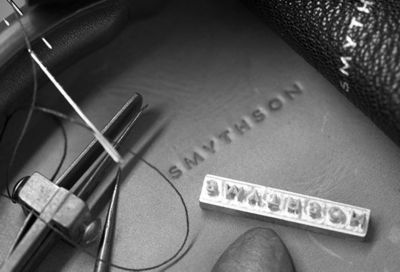 DESIGNED FOR AN EXTRAORDINARY LIFESTYLE
Each handcrafted piece embodies the Smythson lifestyle – an extraordinary voyage of culture, opulence and unhindered opportunity. We understand the priceless and timeless details that the true connoisseur can appreciate, and our products endure a lifetime of usage with intrinsic longevity. Made with only the highest quality, carefully sourced leathers, our leather goods encompass a wide range of elegantly designed items for men and women.