Discover personalised stationery
Smythson stationery sets the benchmark for excellence. Unrivaled in quality, our British artisans use traditional copperplate engraving on specially milled Smythson paper, ensuring that each handcrafted piece is exquisite. Personalised stationery allows you to create something uniquely individual and utterly refined.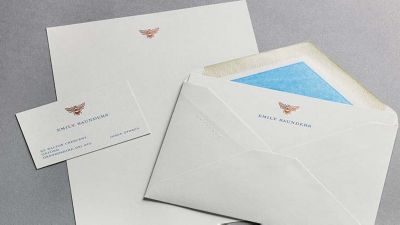 personalised stationery online
It has often been said that you can say a lot about a person from their stationery. The sign of a true tastemaker, personalised stationery allows you to combine your style with the attention to detail and highest quality for which Smythson is renowned.
Ordering personalised stationery online is wonderfully simple using our interactive service. From business and correspondence cards, to traditional writing paper and even wedding invitations, our selection of layouts, lettering, motifs and colours allows you to create your own signature stationery.
Once your artwork has been approved, your order begins its meticulous production process.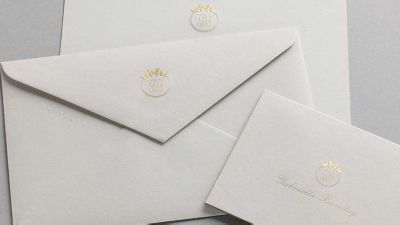 bespoke stationery - the ultimate luxury
If you would like a truly exceptional stationery experience, visit one of our Stationery Salons. Our expert consultants will be on hand to guide you through our full range of options to ensure that all of your requirements are met and your style perfectly captured.
You design will be acid or hand-engraved onto copperplates and then stamped onto Smythson's specially milled watermarked paper, or a paper of your choosing. Our printing is distinguished by its raised finish, remarkable sharpness of line and intense depth of colour.
Smythson's sumptuous hand tissue-lined envelopes can be just as bespoke as your new stationery, incorporating any of the design elements you see fit.

wedding stationery
Smythson's wedding service is the haute couture of personalised stationery. Our consultants are well versed in all sorts of stationery etiquette from 'save the dates' to thank you cards. Tailored to the very finest specifications, our team will ensure that no detail is left untended to deliver a distinctive elegance and refinement deserving of the occasion.
Select from our unique lettering styles, bespoke papers and intricate finishes to create a wedding suite that leaves a lasting impression. From menu and place cards to orders of service and thank you notes, Smythson will ensure that every single piece of stationery for your wedding day is utterly luxurious.
For any enquiries regarding our wedding stationery service, please contact us at weddings@smythson.com
For all stationery queries, great or small, simply contact one of our Stationery Consultants here.
the fine details
Here you will find but a few of the many fine details that can be applied to your bespoke stationery. Simply scroll for inspiration and discover the techniques below.
die-stamping
Considered the highest form of printing, designs are engraved onto copperplates and then coated with coloured inks or metallic foils and hand stamped onto the stationery.
blind stamping
Following the same process as die-stamping, this technique simply omits the ink to give a more subtle raised effect to your lettering or motifs.
platemark
Traditionally used on invitations, a decorative or stepped platemark creates a raised border around the edge of the stationery to frame the text.
lettering styles
Whilst we can match any lettering style that you present, Smythson owns a selection of unique lettering styles that you will not find anywhere else and can only be used by our artisans, giving your stationery that true Smythson feel.
bordering
To create a border, our artisans first test the ink to ensure a perfect colour match and then meticulously hand paint the edges along the surface.
deckle edge
A deckle edge recreates the effect of paper with a raw edge. This technique can be applied to the cut edge of the paper should you desire a more organic texture.
gilt bevel edge
Cutting the edge of a card at an angle creates a smooth edge that allows our artisans to apply gold or silver metallic foils by hand. This same luxurious finish is used on all Smythson diaries and notebooks.
colour edging
To add a pop of colour, inks can also be applied by hand to the edge of a card rather than on the surface, as with bordering. This allows you to have something a bit bolder but no less refined.
specially milled paper
Smythson has a collection of specially milled paper that is made by our UK artisans in a range of colours and textures, each of which bears our signature watermark. However, should you have a specific paper in mind, our trained consultants have an endless array papers in their repertoire.
envelopes
Each envelope is finished with our signature Smythson blind stamp to give it that mark of distinction. Our envelopes are handcrafted to complement your stationery and can be enhanced with many of the same techniques used for our stationery such as colour edging. Smythson envelopes are traditionally tissue-lined but they can also be made unlined.
tissue lining
We use a 'full wrap' technique to line our envelopes. This technique is completed by hand in our artisan workshop to ensure that tissue covers all surfaces inside of the envelope for a truly luxurious feel. Tissue colours can be selected to match or contrast with your chosen inks or metallic foils.