Corporate Gifts Service
Our Corporate Team will assist you in finding the perfect gift for all occasions, from events and client gifting to staff rewards and recognition. Tailored to suit your corporate identity, allow us to guide you through the collections and discover the Smythson heritage behind each handcrafted piece.
leather goods
From our handbags and writing folders to travel essentials, Smythson has an unrivalled range of luxury leather gifts. Made with only the highest quality, carefully sourced leathers in our own artisan workshops, every elegantly designed Smythson product bears our unmistakable trademark of optimum quality, functionality and exquisite craftsmanship.
Personalisation
Smythson believes in individuality. Personalised gifts mean you can tailor products to create something truly special and unique. Upon request, our dedicated artisans can personalise items with a choice of gold, silver or blind stamped lettering and motifs.
bespoke
To create something truly magnificent, Smythson's design team is on hand to create tailor-made products that fully embody your company's persona. Our team will work with you from initial concept to final production, creating a matchless product that reflects our unrivalled expertise in design and craftsmanship.
This exquisite port box was designed with W&J Graham's to present an extremely limited edition collection of a 130 year old Port. Dating back to 1882, this port was first purchased by the great-grandfather of the Symington family and the historic decision to open the cask required an equally historic presentation box. Smythson designed one such box for every bottle of 'Ne Oublie' and also created an accompanying booklet to tell the tale of the family, the port and the attention to detail that accompanied its presentation.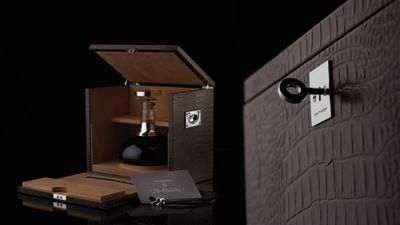 books and diaries
Smythson has a long history of creating unrivalled diaries and notebooks. From their hand-stitched spines and supple leather bindings to the clean, crisp leaves of Featherweight paper; every Smythson book is handcrafted in our UK workshops.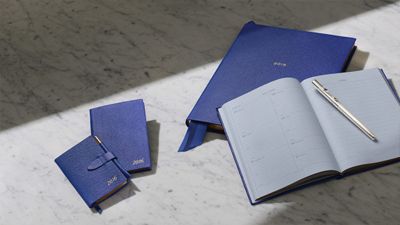 bespoke corporate stationery
Perfectly capture your corporate identity with a collection of exquisitely handcrafted bespoke stationery from Smythson. Be it business cards or letterhead, out experts will help you select from our wide array of inks and papers to ensure that you create a truly lasting impression.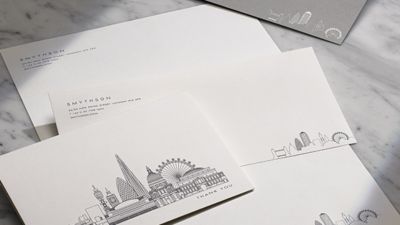 Gift wrapping and Delivery
Products are gift wrapped in our signature tissue-lined Nile Blue boxes and hand tied with navy grosgrain ribbon. Large leather goods are wrapped in a soft Nile Blue drawstring pouch and presented in a Smythson bag tied with a navy grosgrain ribbon.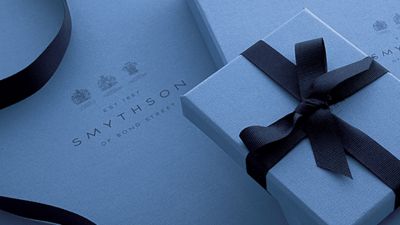 Craftsmanship
In our world, luxury and versatility are never compromised. We understand the attention to detail that only the true connoisseur can appreciate. Made with only the highest quality, carefully sourced leathers, our products endure a lifetime of usage with intrinsic longevity.