Corporate Gifts Service
Our Corporate Team will assist you in finding the perfect gift for all occasions, from events and client gifting to staff rewards and recognition. Tailored to suit your corporate identity, allow us to guide you through the collections and discover the Smythson heritage behind each handcrafted piece.
Worldwide Contact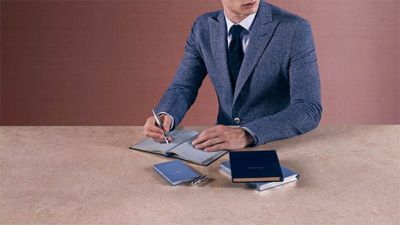 Craftsmanship
Our books and accessories are all hand bound and made in small artisan factories in the UK and Europe. We use only the highest quality leathers in a wide range of exquisite colours and finishes, carefully sourced from prestigious European tanneries. Designed by founder Frank Smythson, for its slim lightweight qualities, our signature watermarked Featherweight paper for our notebooks and diaries is milled in the UK. For the ultimate luxury finish each page is trimmed with a gilded edge.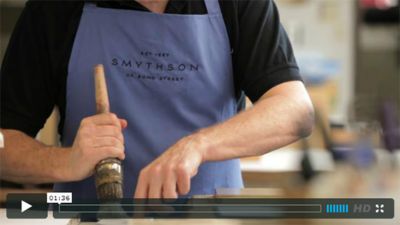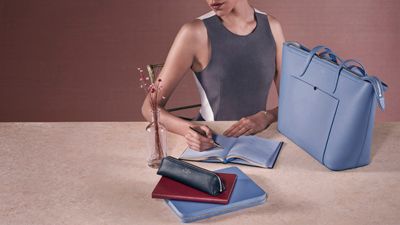 Personalisation
Upon request items can be personalised with a choice of gold, silver or blind stamped lettering. Handcrafted by one of Smythson's dedicated artisans, each piece will be beautifully finished with the attention to detail present at every stage our process.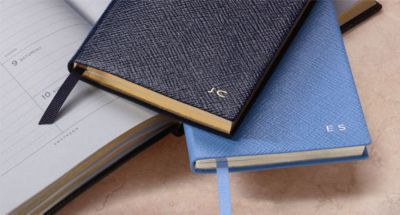 Gift wrapping and Delivery
All our items are delicately gift-wrapped in our signature Nile Blue boxes, carefully tissue-lined and tied with navy grosgrain ribbon. Beautiful bespoke name cards are also available on request.
We ship globally to any address of your choice. From order to dispatch our corporate gifts team will keep you updated at every stage to ensure all your personal requirements are met smoothly and promptly.