How to Escape (at Home)
With the founder of Yolo Journal, Yolanda Edwards.
If travel is a state of mind, Yolanda Edwards lives a life in perpetual motion.
As the founder of travel publication Yolo Journal and former creative director of Condé Nast Traveler, not to mention a tireless globetrotter, capturing the beauty of travel is Yolanda's life work. 
It's little wonder, then, that at a time many of us are having to stay in one place, her home life is still pervaded by a sense of where-to-next. Here Yolanda gives us a glimpse into how she's using her notebooks and diaries to make planning her next trip into an escapade in its own right. Best accompanied by your favourite aperitivo and a bit of imagination.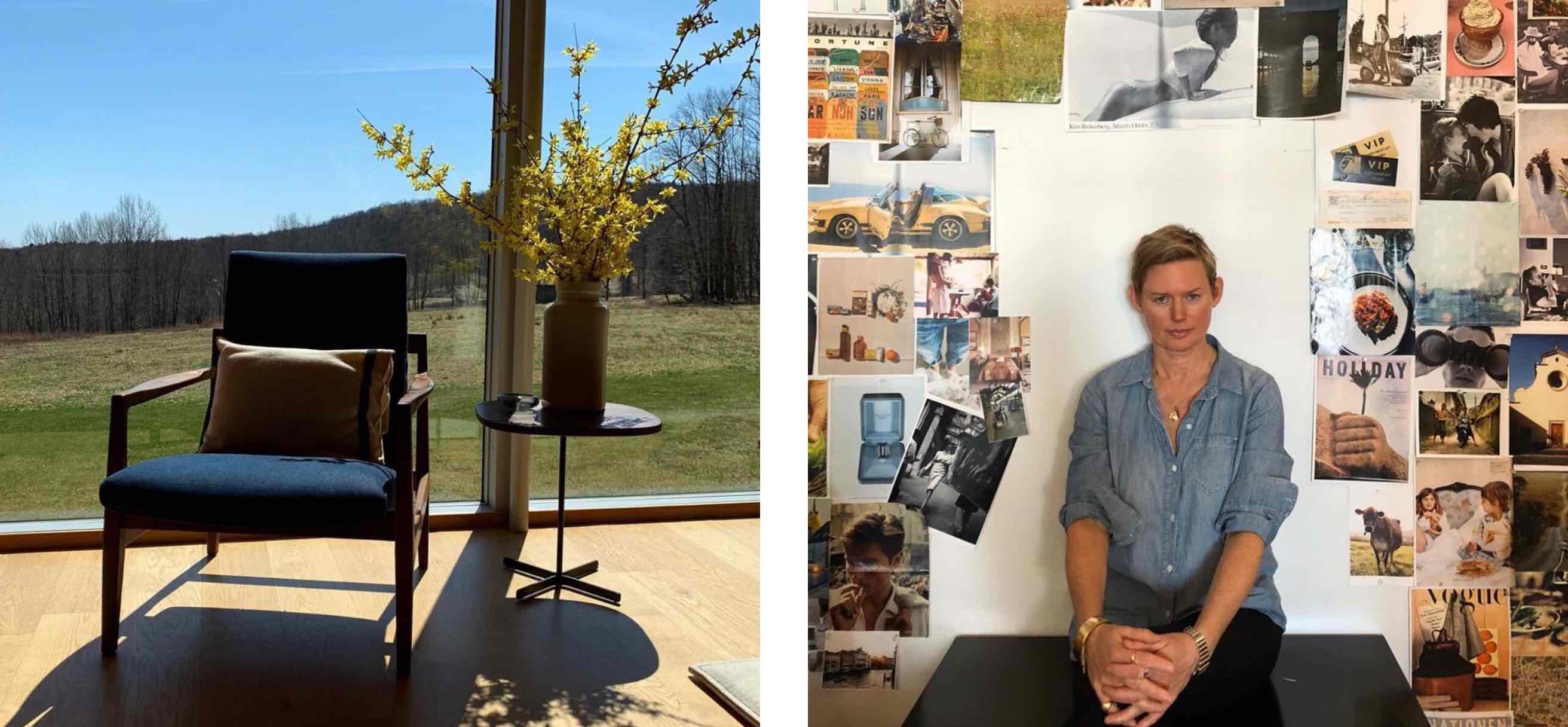 Describe your home workspace for us.

At the moment I'm living in what was previously our weekend place in the country, which is in a very rural area in upstate New York. I work at our dining table and Iook out a window onto a large field (often with deer and turkeys crossing it) with trees and a barn in the distance. I hear the sound of birds, peeping frogs in the pond and, lately, the sound of rain. The smells are often cookies baking - my 16 year old daughter is an amazing baker.
Which notebook do you find yourself using the most?
I use my Soho diary on a daily basis. I hear people saying they don't know what day it is, much less the date, but I'm exactly the opposite! I need structure and to be able to check things off the list to feel normal. While it is the Smythson notebook I use the most, it isn't my favourite...and that's because my favourite is the one in which I just dream - the Portobello.
How do you use your notebooks while travelling?
I try to write as I go, but often I end up writing in them on the plane ride home. It all depends on how jam-packed the itinerary is… If it's an easy and slow vacation, I love to write in my notebook daily.
Do you have any travel rituals?
Memory keeping is a big part of my travels, which requires some thought before leaving. I always bring a travel-sized watercolour kit, a notebook, coloured pencils and washi tape for taping postcards and mementos into my journals.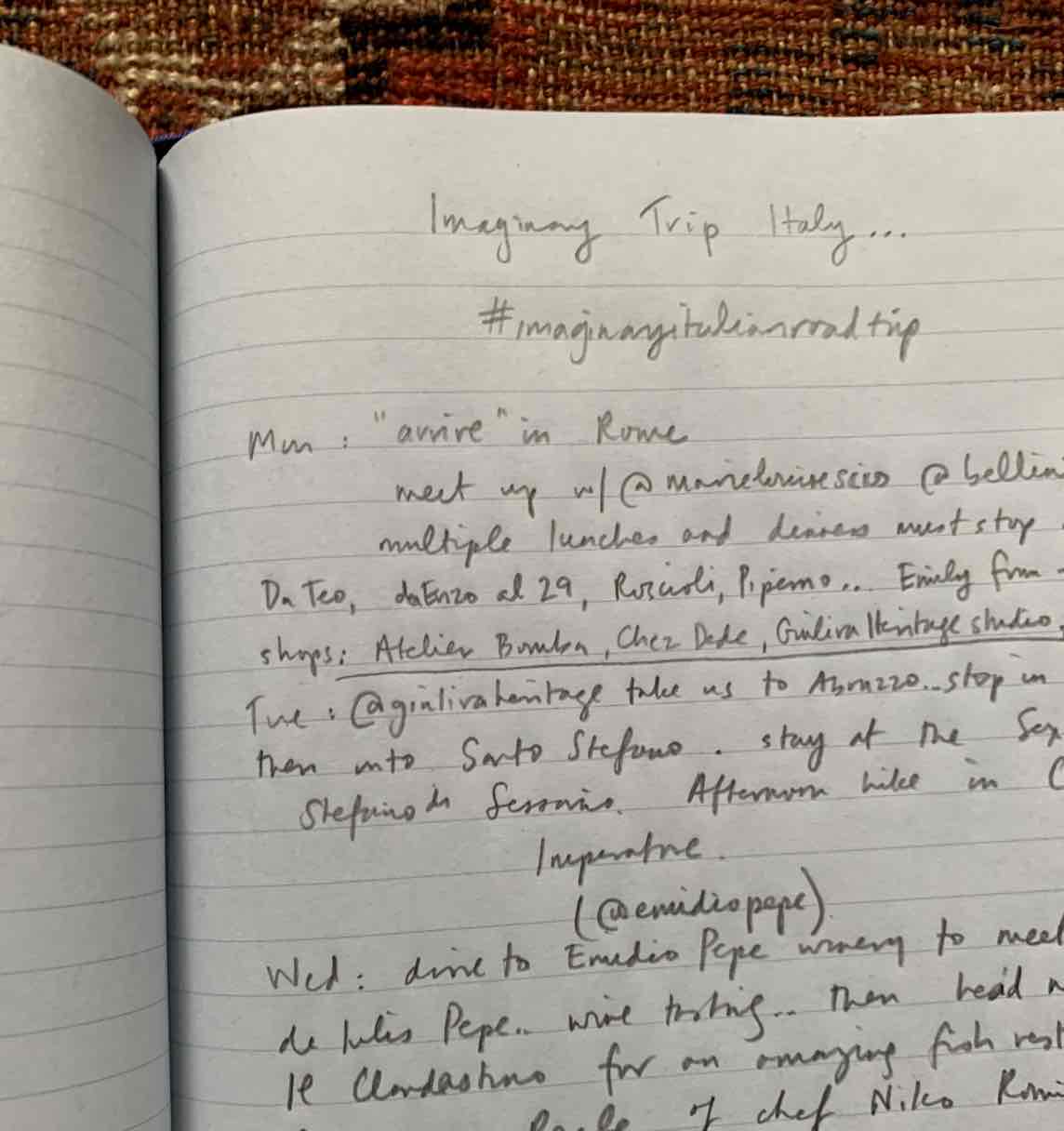 With many of us being forced to hit pause for the time being, how can one 'slow plan' their next trip? 
First, don't think logically, about time, budget, distance. Close your eyes and think about a place you've always dreamed of going, then write it down. You're now in a creative headspace, not a logistical one, and you're on the right track. After you start writing down the places you're dreaming of (because believe me, you won't have just one) have a look at that and see if there is any that fit into the reality of your life. 
Writing down the instagram accounts and websites that inspire you per location is a good idea. When I don't write them down, I always forget where I found what information, and spend way too much time trying to find it again. Having a journal or a notebook that is just for travel dreaming and planning also makes it all so much more pleasurable. The places that you find as you're researching may not work for now, but will at some point in the future, so all the research lives in one place.
Do you have any ways of achieving a sense of escapism while at home?
I love to look back through my photo archive and get lost in it. Sometimes I'll ask my husband to make a drink or a meal that is inspired by a place I'm looking at and missing. And sometimes we'll go as far as even dressing as if we are there.