Personalisation Options:
Content
Paper
Lettering Style
Border & Motif
Envelope
Summary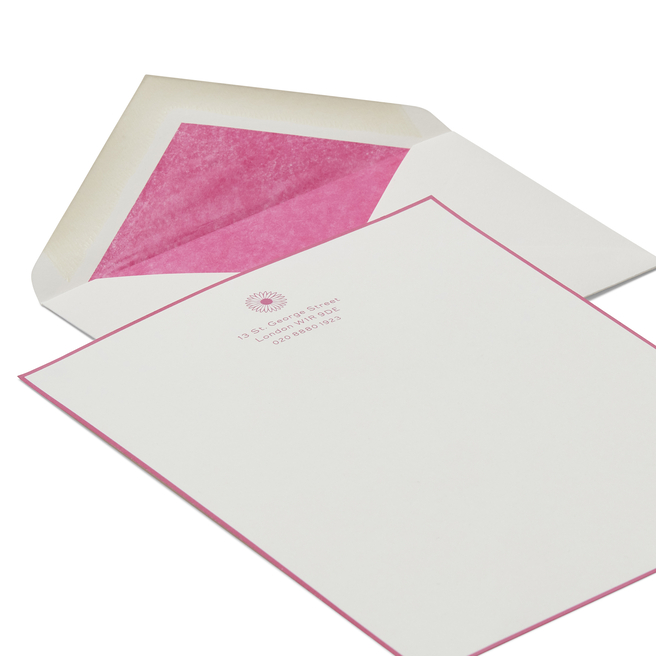 Kings Writing Paper
Size:
6¼ x 8" (158.7 x 203.2mm)
Prices start from
£194.50
Borders, motifs and tissue-lining may be added at an additional cost.
You will be able to increase the quantity of your order on the summary page.
Sorry, it looks like your screen resolution is too low. To enjoy the full experience of our online personalised stationery service please use a device with a higher resolution.
Be inspired to pick up a pen with our signature handcrafted writing paper.
Designed with room for six lines of text
Watermarked envelopes included, personalisation options available
Printed by hand in Wiltshire, England
Writing paper is available to order in multiples of 50
For orders over 500 pieces, please contact our Bespoke Stationery Consultants
Once your order is placed, we will email you a typeset proof to review. After approval of the proof, please allow eight working days for your order to be completed. Smythson reserves the right to refuse to print or stamp any personalisation we consider to be unlawful, libellous, profane or inaccurate (in the case of misuse of titles).
In-store collection available
Express shipping not available
For further assistance, please contact our Customer Service Team on 0845 873 2435.