The Beauty of Bespoke Stationery
As told by a stationery expert.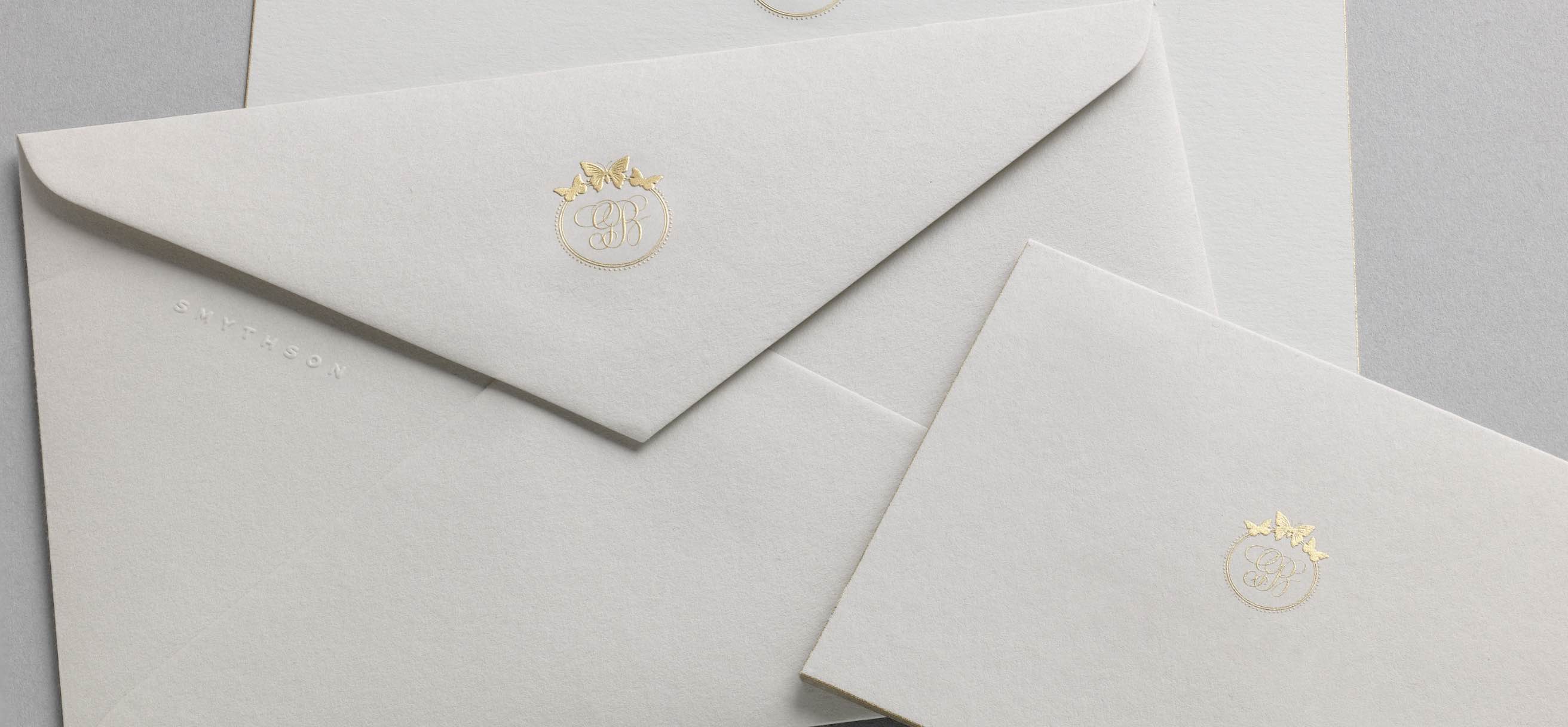 As any enthusiast will know, a piece of stationery's charm goes far beyond what you can see. There's the slightly weighty feel in your hand of a calling card, the rustle of a tissue-lined envelope as you open a wedding invitation, or the way your pen glides effortlessly across the surface of a correspondence card.
Read on as our bespoke stationery consultant, Ruth Baxter, reveals the design process behind a piece of Smythson stationery.
What sets Smythson's bespoke stationery apart?
We specialise in engraved stationery, a traditional printing technique, which is noted for its sharp lines, rich colours and tactile, raised finish. We combine this age-old printing process with a modern design sensibility, craft- based finishing skills, exclusive materials and a wealth of experience.
We go on to work with many of our customers repeatedly on stationery for multiple events and life stages – it's great to meet a young couple for wedding stationery, produce their birth announcement, organise the christening invitations, create a change of address card, design an invitation for a big birthday... the list goes on. When we work with people over a series of projects we can really grasp what expression is needed for each one, it becomes a true collaboration.
What preparations should be made before an appointment?
For any form of invitations or event stationery, it's a good idea to think about your quantities before the consultation - your consultant can help you create the perfect pieces of stationery but they don't have access to your guest list. Remember that some pieces need to be considered by household, not by overall numbers. For example, you don't send every guest an individual wedding invitation but they will need their own place card.
Which are your favourite stationery projects to work on?
All of my team enjoy working on weddings because we get to be involved with a variety of stationery. It's very satisfying to work with the couple and create a design that expresses them and works for the occasion, before we extend those ideas to supporting items, such as the order-of-service and menu cards.
I also find it rewarding working with clients to create memorial stationery. It's a privilege to be able to assist people at a challenging time and to know that the stationery we create together could help to bring them comfort as they remember the life of their loved one.
What special design details are there to choose from?
Additional details are optional and we offer a range of handcrafted finishes, including bordering, gilding and edging on paper and cards, hand tissue-lined envelopes and a huge library of exclusive motif designs. All of these are executed by our in-house artisans based in Wiltshire.
What stationery trends have you been noticing recently?
I think that the events of the last 18 months have removed people from some of the pressures of thinking about what's 'correct' and moving them towards 'what do I like and what do I want?', so we've seen some very individualistic designs with inventive use of colours and some quirky mis-matching. Stationery does still have some elements of etiquette that customers may need to be aware of, but I love it when we can create stationery that truly expresses the customer's personality.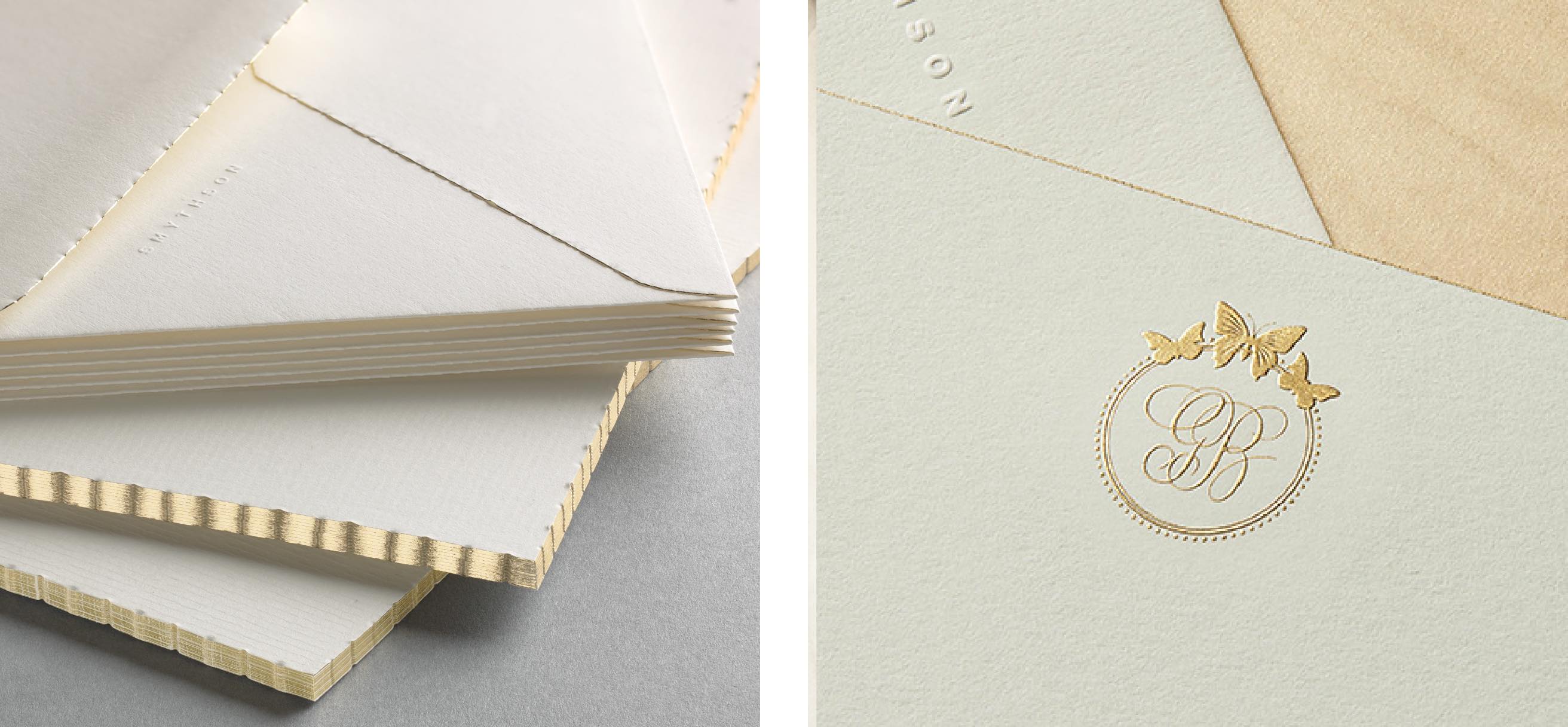 What styles would you love to see again?
I think that business or calling cards are currently overlooked and under-utilised – what's not to love about an opportunity to create a form of self-expression on a piece of stationery the size of a credit card? In recent years we've all added so many more numbers and pieces of contact information that the design aspect of them has become less of a priority than clarity and readability. Obviously, those things are important, but I'd love to see more cards that focus on expressing the personality of the bearer, rather than how you might contact them.
I often say to clients that their calling card can tell the recipient an enormous amount from the very first touch; just the weight of the card and the feel of the engraved print will speak volumes through their fingertips before they even read a word. What would you want your stationery to say about you?
Smythson Bespoke Stationery salons are located at our New Bond Street and Sloane Street stores in London, and our Madison Avenue store in New York.
To book your private appointment, click here or email bespokeconsultants@smythson.com.
To discover our Online Personalised Stationery service, click here.